Walnut Singularity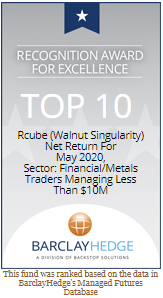 There is a substantial risk of loss in trading commodity futures, options and off-exchange foreign currency products. Past performance is not indicative of future results.
Account is based in EUR and is converted to USD in this performance table.  All differences related to rate changes are added back each month. Management (1%) & Incentive Fees  (10%) are proforma. Trading Level is fixed.  Net Performance is added or withdrawn to maintain the fixed Trading Level 2017-2018. Proprietary account July 2017-Dec 17 2018.  Fund account Dec 18 2018 to present.
Fees exclude an additional 20% VAT that applies to European Union corporate accounts and any individual accounts notwithstanding their place of residence or citizenship
---
This material and the information it contains has been produced by Rcube Asset Management ("Rcube"), with the aim of providing information only, regarding Rcube capabilities and Walnut SingularityProgram in particular. This document is confidential and may not be copied, disclosed, photocopied, duplicated, reproduced or otherwise redistributed. It is solely for the use of an existing investor in the Program, a Professional Client as defined by the "Règlement Général" of the "Autorité des Marchés Financiers" (the "AMF") or the European regulation known as MiFID ( 2004/39 / EC Directive) or an Accredited Investor under other eligible jurisdictions, and a Qualified Eligible Person as defined by the rules of the US National Futures Association (the "NFA") or otherwise eligible to participate in the Program to which this material relates. This material is not intended for, nor should it be used by non Professional clients or Retail Clients or US Persons as defined in relevant US laws, as the investment Program to which this material relates is not available to them for investment. It is not directed, nor is it intended for distribution to, or use by, persons in any jurisdiction in which the investment products are not authorised for distribution or in which the dissemination of information regarding investment products is not permitted. If this is not the case and you receive this document in error or are not the intended recipient, do not read or copy it or any part of its contents or take any action in reliance on it, please destroy and indicate this breach to Rcube Asset Management.
Although the information in this document is obtained or compiled from sources Rcube believes to be reliable, comments, declarations, views, prices, data and other information contained, either explicit or implicit, are not warranted as to certainty, completeness or accuracy. It neither constitutes a recommendation, a solicitation, an offer of products or services, a proposal or invitation to invest, an invitation to trade future or any derivatives, to buy or sell securities or any other financial product or investment, nor is it intended to constitute, and should not be construed as, investment advice. Neither Rcube Asset Management nor its content providers are responsible for any damages or losses arising from any use of this document. In making any investment decision, investors must rely on their own examination of the merits and risks involved and seek legal, fiscal and financial independent advice. Past performance is not indicative of future results.Trading futures involves substantial risk of loss and is not suitable for all investors. You should, therefore, carefully consider whether such trading is suitable for you in light of your financial condition. The high degree of leverage that is often obtainable in commodity interest trading can work against you as well for you. Significant considerations should be given to which strategy is appropriate for your particular financial situation. All investments in the commodity interest market should be made with risk capital only. Please carefully review the disclosure documents and any other promotional material prior to investing with any program.